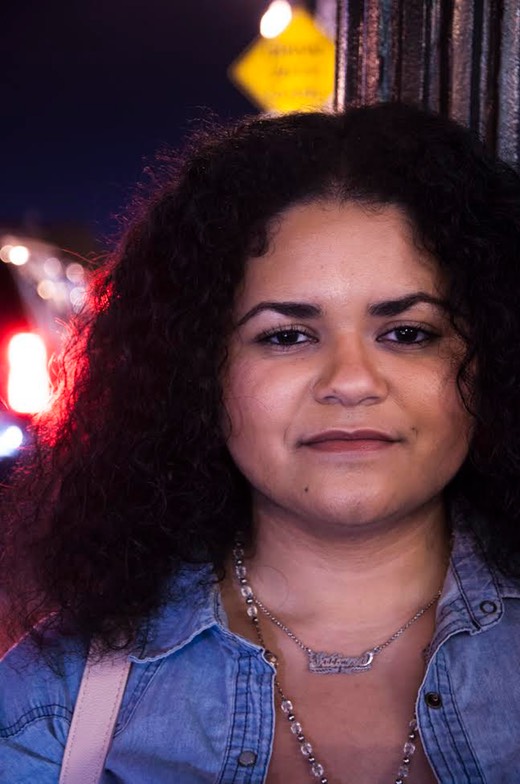 BIO
Afro-Boricua poet Tatiana Figueroa Ramirez graduated with a B.A. in English Literature from the University of Maryland, Baltimore County (UMBC) and is a 2016 VONA Voices Alumna, working under award-winning poet Willie Perdomo.  She currently performs spoken-word poetry in the greater Washington D.C. area, having previously performed in other parts of the U.S., such as Philadelphia and Miami, and internationally in the Dominican Republic.  Tatiana has been published in Public Pool and Spillwords.
Paradise
             Editor's Note:  Because of the need to preserve the richness of formatting, this poem is available here through PDF
La Negra 
"You're Scary Spice,"
Says the golden-haired girl.
The one labeled Scary
Stays silent.
A third little girl
Strings her words
To win the role
Of Baby Spice
And the golden girl
Becomes Ginger.
The three play
Singing and dancing
Just to repeat it all
The next day.
20 years pass,
The one labeled Scary
Stares back at me.
Her honey-toned coils
Highlight her face
And complement
Her sand-freckled
Hands & feet.
Her light brown eyes
Scream
I'm surviving the struggle.
The struggle of
Raising my badass brother,
Working for a fucked up
Education system,
And trying to love myself,
All while learning
How to bend my knee & walk again.
The one labeled Scary
Is now a free mermaid,
Swimming
In a ten-feet deep ocean
With the golden-haired girl,
Who is quickly called away
By her golden-haired father.
"My father said I can't play with niggas"
Is all she says.
Salty tears
Disappear
Into chlorine-fused waves
As the one labeled Scary
Sinks deeper
Drowning her body.
Echoes of Papa saying
"You are not a nigga"
Rip through each ripple.
 A scar squats
On her chin's right side,
Downward turned lips
Carry the weight of loss,
And a Deathly Hallows tattoo
Attempts to protect her
From the curse of being a nigga.
The Bronx,
The Boogie Down
Full of boogeymen
Is the one labeled Scary's
Home again,
Where the Nuyorican,
Street culture
Shapes her,
But the images of
Mami and Abuela
Challenge her.
They are light
Like the color of coquito.
Their hair doesn't need any heat.
If they are Puerto Rican,
Then she is the negra of the block. 
The moonlight pours down.
She oozes with magic
As her hair defies gravity.
Cheeks are soft.
No hard edges.
Her gaze tender
And present.
The one labeled Scary
Is not Scary.
The one labeled Scary
Is not a nigga.
Negra,
You are Puerto Rican.