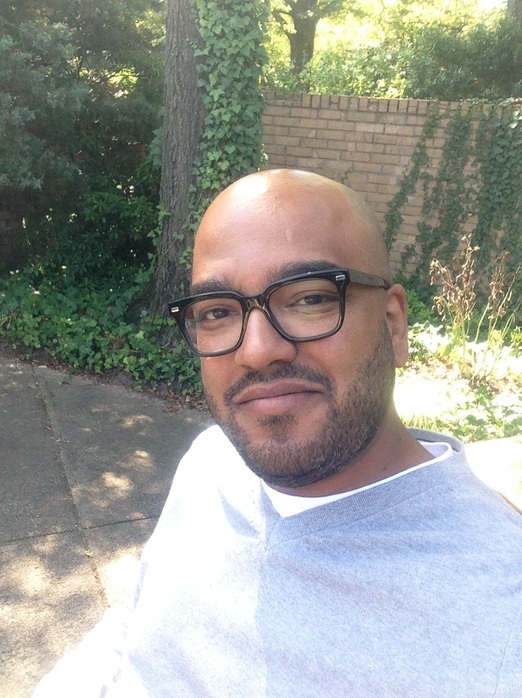 BIO
Roberto Carlos Garcia's published works include the chapbook amores gitano (gypsy loves) Červená Barva Press 2013, his poems and prose have appeared or are forthcoming in Bold As Love Magazine, Entropy, PLUCK!: The Journal of Affrilachian Arts & Culture, The Rumpus, 5 AM Magazine, Wilderness House, Connotation Press- An Online Artifact, Poets/Artists, Levure Litteraire, and others. 
A native New Yorker, Roberto holds an MFA in Poetry and Poetry Translation from Drew University and is Instructor of English at Union County College. 
His website is www.robertocarlosgarcia.tumblr.com
Three poems
The angry Black man
in the room is
                     invisible—
disarming, disengaging,
         not as dangerous
among the living as in
         the White      of imagination.
He be
Sanchez, Johnston, Harjo,
   Patel, and Shabazz,
he tip toe not tap dance,
mumble not mambo,
cry—not rain dance.
Let's not simile, or
context the brother—
let's just
piss him, poke him, push him
off
         comportment cliff,
music his meaning,
         funkify his fight.
Knock, knock.
Who's there?
Angry Black man.
Angry Black man, who?
Me.
Identity repair poem
(after Thomas Sayers Ellis)
NÉGRO
Négrito lindo (pretty)
Négrito chulo (smooth)
Querido négro (beloved)
Maldito négro (damn!)
         SUGARCANE
Yeah, we go back
like sun & sweat
crack of the whip
greed & pain,
a trip across a cold salty ocean.
         AFRO-LATINO
Pedro Martinez
Jheri curls
Mongo Santamaria
Drums Drums Drums
Rum    Rum    Rum
         LATINO (BLACK HISPANIC) CHECK HERE
         LATINO (WHITE HISPANIC) CHECK HERE
I mean soy negro,
not Af-Am,
but I'm black.
Verdad?