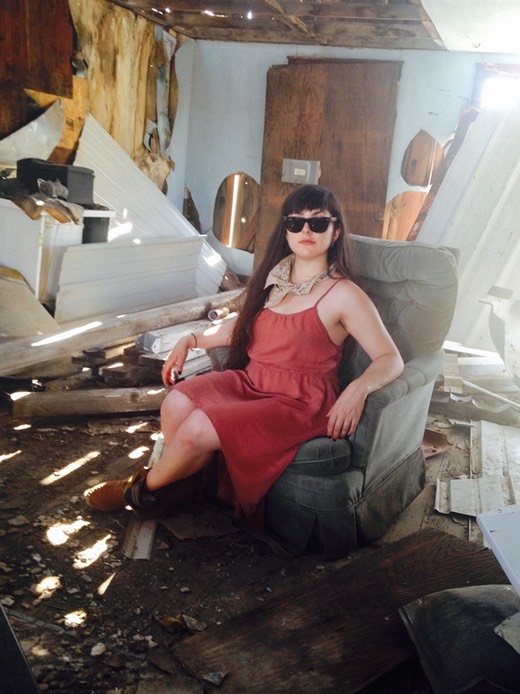 BIO
Loria Mendoza hails from Austin, Texas, where she learned to keep it weird. Seeking the constancy of water, she moved to San Francisco, where she earned her MFA in the Creative Writing program at San Francisco State University. Her work has been published in Fourteen Hills, Red Light Lit, The Walrus Literary Journal, Transfer Magazine, The Velro Reader and featured at Bay Area Generations, Voz Sin Tinta, MFA Mixer 2.0, Velro, Oakland's Beast Crawl and San Francisco's Litquake. Her chapbook, Life's Too Short, a collection of stories, is forthcoming from Fourteen Hills Press in 2017. She lives in Austin, again. loriaambermendoza.wordpress.com
Geometry of Hunger
Sepia portrait of the day   spent
boiling apples in vinegar.
Resistance:            crimson skins pucker yet remain skin,
                             after centuries of poaching       elephants no longer grow tusks
He doesn't like to eat inside: there is
a vapour that attracts feral cats.
So we've come to Ocean Beach.          Where the light is weird.
When the earth is hungry           she chips away at our empty china,
tectonic plates driven by fleshy hooves pawing baby teeth into the shape of the moon.
We sit watching a tree the ocean it
doesn't know if it wants to keep or      spit out the drift
I count circles within circles,               cork between my teeth
In the distance workers cut down an invasive breed
they will keep the good wood but how do they know
what are the good parts of a woman like me
would they keep a damn thing
bother to bleach and saw bone count the rings
notice the bruises the growth                      I'm
hungry for a door that wont fail to catch the lock
when terror falls like teeth.