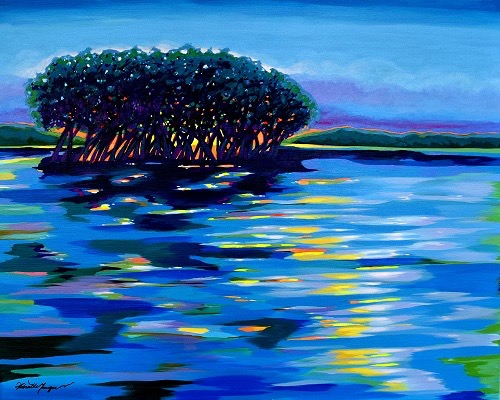 "Blue Serenity"
Bio 
Adorable Monique is an award-winning artist brought up abroad. Having the good fortune to be mentored by a renowned artist has enriched her artistic vision. She has received numerous awards and the opportunity to exhibit in various venues. Growing up surrounded by different cultures has broadened her overall view of life. She is continuously pursuing success in personal, professional, and artistic endeavors as well in the artistic experience itself. 
Adorable Monique (@adorablemonique_artist) • Instagram photos and videos
Artist Statement
     Art has been my drive, my purpose and motivation in life. It has allowed me to express myself, in ways that I couldn't otherwise do. Art has enabled me to expand my socio-historical and cultural reality beyond its parameters. In short, the biological-cultural ethnic groups in our country and elsewhere are fascinating, making us unique and special, worth unraveling.
     My artwork explores the tangible and not tangible aspects of our natural world and human experience, I intend to portray the inner beauty of things and complexities, a deep meaning behind the apparent, our natural environment represents life and the water nurtures the land with fertility and knowledge. I believe in the mission and vision to preserve the natural resources, with the hope that my art may speak to the audience to create conscious towards nature.  Also, the importance of cultural heritage, cultural heritage makes our lives great, not only because of who we are, and our diversity, but where we are headed.
     Assessing the significance found in each context and the appreciation of the values of life. My inspiration comes from seeing diversity up closely, the sense of belonging and acceptance is sought throughout life and portrayed in my art, embracing our hopes and dreams. 
     So first of all identified with the female gender, to showcase women surrounded by natural resources in nature; also, birds, which represent freedom and rising high as a metaphor to achieve aspirations and goals. Shapes that would represent stages of transformation, the purpose of evolving into a diverse culture while embracing traditions, beliefs and self identity.