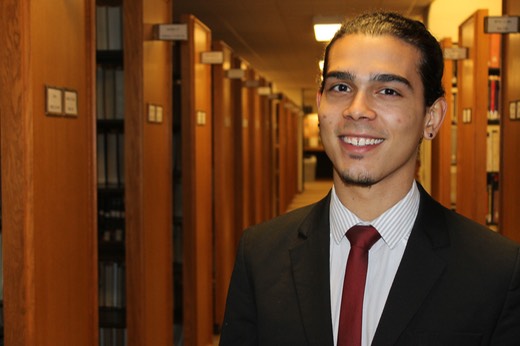 BIO
Noel Quiñones is an AfroBoricua writer, lyricist, and educator born and raised in New York City. A recent graduate of Swarthmore College, Noel is currently representing Philadelphia on their National Poetry Slam team competing in Oakland, California. His work has appeared in The Decades Review and The Adroit Journal. You can find more of his work at www.elninoquinones.com  
Wepa and Abuela Discuss Puerto Rico
Why have you left yourself on my doorstep?
I thought you said you couldn't save us; lazy,
crawling toward America like we celebrate
for all the wrong reasons.
Pues, I've been cleaning:
                                   the heroin
                                   the jail cells
                                   the shame off the floor
Haven't you, mi querida?
Don't you see, all this blackened beautiful?
In Nueva York, used mis manos, a touch
of Lares' dawn soap, y mi orgullo.
Que impresionante! You can't even tell
we were here at all, you can't even tell
who gave us the brush in the first place.
Perfecto.
Babel Tongue:
Duma says I have the heaviest puerto
of a muy rico mouth, the richest gums
from the sand streets. Excitedly,
my tongue claims currency, tries to bribe
its way past the borders of another's skin.
Yet, chained on an island of saliva, lengua stares
at the inverted tower of my throat, thinks
God, what I would do to climb that skyless cielo.
Afirmación:
Hoy estoy cantando mi canto,
Escúchame desde el barrio al campo.
Todos me dicen, Tu hablas con una lengua blanca,
blanco, blanquito, este Spanglish resides in my ego.
Recuerdas? Cuando mis abuelas, brought el boogaloo!
Boogie Down Bronx,
                                a statement to how we come through
ruh-ruh-ruh-remixed, porque no me gusta shit that ain't new
Who you?
                  Bringing preguntas muy especificas
Mi acento no es tipico, nació en Puerto Rico
pero  
grew up to shave the streets incognito,
my jaw is a razor tipped desciculo steeple,
to pry open ya throat and remove words like latino!
Porque otra vez, quieres cambiar el nombre de my people!
My people, made the grave a temple, the funeral a party,
ground, espiritu santo, singing,
El jorgorio esta, el jorgorio esta,
Bien por la maceta, vamos a go-za-ha-ha,
wepa, wepa, wepa,
Vamos a go-za-ha-ha,
wepa, wepa, wepa
         El jorgorio esta, el jorgorio esta,
         Bien por la maceta, vamos a go-za-ha-ha,
         wepa, wepa, wepa,
         Vamos a go-za-ha-ha,
         wepa, wepa, wepa