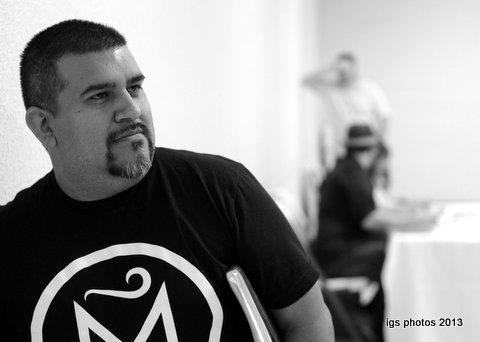 Originally from Galveston, TX, Lupe (Writer//Educator//Activist) is the author WHY I AM LIKE TEQUILA (Willow Books, 2019) and works to promote poetry events, advocate for literacy/literature and organize creative writing workshops that are open to the public. He is the founder of Tintero Projects and works with emerging Latinx writers and other writers of color within the Texas Gulf Coast Region, with Houston as its hub. Lupe co-hosts INKWELL - a collaborative podcast creation between Tintero Projects and Inprint, placing a monthly spotlight on Regional, National and International Latinx writers and other Writers of Color. Mendez has received fellowships from CantoMundo, Macondo and the Crescendo Literary/Poetry Foundation's Emerging Poet Incubator. Mendez currently serves as the Literary Outreach Coordinator for Poets & Writers Inc. for Houston.

Mendez has close to 20 years of experience as a performance poet - having opened up for such notable writers as Dagoberto Gilb, Esmeralda Santiago and the late Raul Salinas. He has shared his poetry across the country in places like the Holocaust Museum Houston, the Jung Center, MECA (Houston,TX), the Mission Cultural Center For Latino Arts (San Francisco,CA), the National Hispanic Cultural Center (Albuquerque,NM)  and the Mexican American Cultural Center (Austin,TX). Mendez has served as a keynote speaker/poetry performer all across Texas. He has hosted writing workshop opportunities across the country, most recently as a teaching artist for the Poetry Foundation (Chicago, IL) as it hosts its Teacher Poetry Summits in MIami, FL and Chicago, IL. 
Lupe is an internationally published writer, in book and online formats, including prose work in Latino Rebels, Houston Free Press, the Kenyon Review, Norton's -Sudden Fiction Latino: Short-Short Stories From The United States and Latin America, and Flash (University of Chester, England)- the international forum for flash fiction, as well as poetry that appears in The Bayou Review (University of Houston-Downtown),  Huizache, Luna Luna Magazine, Pilgrimage, the Texas Review, Bordersenses, HeART Journal Online, Glass Poetry Journal, Tinderbox Poetry Journal, Hunger Mountain, Gigantic Sequins and Gulf Coast Journal, among others. 
Mendez has been honored as one "Houston Press' Creative 100s" - and along with the rest of the Librotraficante organizers, was also awarded the Downs Intellectual Freedom Award 2012 for the defense of Mexican American Studies and literature across the Southwest United States. Lupe has served as guest editor for several literary journals including Drunken Boat and Acentos Review as well as serving as Lead Editor for the Houston based Iconoclast Artist teen poetry anthology - THEY SAY . He continues to work on submissions, creating more writing workshop opportunities and continues to share his poetry with local high schools, colleges and community/arts centers.

Lupe's work reflects his roots in Texas and the Mexican state of Jalisco ( specifically, Atotonilco El Alto, San Jose del Valle, San Juan de los Lagos, Guadalajara, Los Cuates, La Pareja). Mendez is the son of an undocumented Mexicano and a Southern Tejana and his work remarks on issues from the political to the emotional in a way that intends to connect with both the novice reader to the pro poetic writer.