Eavesdropped Song
Love poem from a Coquí to a tree used for a Buleador
I used to sing to you at night;
croaking you wind
chimes that dance leaves.
You used to quiver
ripples of raindrops
through my fingers. 
My hands on barrel of you;
ancient wonder, standing
through indigo sky. You
breathed to me one night. 
I almost heard you, I thought
would sound like fire— popping &
cackling , children playing hide & seek.
I was waiting to hear your whisper.
Wave running to the shore of me. 
They came for you—
cut in a way that
made the sky crack.
My home,
I rested my body 
in the forest of you;
gone in earthquake of machete
leaving me
reaching for rumblings of you. 
They scraped you empty.
I sang to you so you
wouldn't hear the
ravaging.
They put their hands on you. 
Made you sing a song that
Sounded like thunder.
I heard you for the first time
under the hands of another.
The heart of Bomba
His hands—an ancient thunder, tree bark palms thick with calluses. I count the ages we been in love by numbering rings; ripples in ponds. His finger tips have made dirt wrinkle. It's the vulnerable flesh underneath his wrist, the soft parts of passion bursting, throbbing, bubbling over that makes me swell into an arch of fringe and pomp. He's always been a jíbaro of skin and wood. 

Mosquito woman—
she bit me, all stinger and no wings.
She seems
that way when you first notice her. 
Twig of a man;
her hair dancing in the wind, 
rain bouncing and dripping on her
curls. I had to touch it. Had to feel her
bite. 


Always faithful to the thunder, the bass at the arch of my feet. The flame skirt laying at my thighs, the way embers thrust up, a striking lightning, settling into the soot of ashes. He been burning an old fire for me, waiting for the licking of surrender. He been carving trees for me making em hollow. He is all tree songs and dust storms. His eyes are married to the way the ruffles are an ocean making love to a bent palm tree. 


Wings
glistening with sweat.
They are the gold booty hidden 
at base of cave.
She loves the challenge 
of rhythm. The friction of
feet & hands in noise making
No body can make music without them.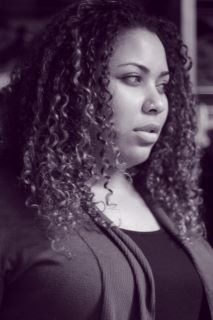 BIO
Sarah Bruno is a daughter of the Most High. A true Chicago Boricua raised on the Southwest side of Chicago. Sarah attributes her love of poetry to youth programs like YOUmedia, Kuumba Lynx, and Young Chicago Authors. A former Louder Than A Bomb Champion, Sarah is all about community. She is a First Wave Scholar at the University of Wisconsin-Madison majoring in: Latin American, Caribbean, and Iberian studies and Spanish with a certificate in Religious Studies. Sarah has competed at a collegiate level twice at CUPSI since attending the University of Wisconsin and is a part of the 2014 CUPSI team. Sarah loves Pretty Ricky, Ron Pope, and the 90s. Follow her on twitter at: https://twitter.com/ricansaruhh .