Hee Hee Hee  
Papí is laughing like a hyena I saw in a cartoon. He looks at
Mamí. Hee hee-hee. Then he slaps his thigh, ¡Alabalsa Dios! He
looks at Marí. Hee hee hee. He's all red.


Mamí's sitting on the sofa with Papi's belt on her lap. It's 
folded, so the hurt will last a long time. Every once in a while
she lifts the belt, like she's thinking about it. That's why Papi
thinks she's so funny.
 
This time I'm going to be smarter. My bag is still packed. Mari's
is, too, but she didn't put any clothes in it. Just her baby doll. 
When Mamí stops watching me the way she is, I'm going to tell
Mari she's got to sneak some clothes into her bag before
tonight.
 
Maybe I better do it for her. The bags are by the side of the
door. Right where Mamí can see them. I have to sneak my
roller skates in there, too. I can't leave without them.  I can wait
Mamí out. She'll have to go to the kitchen sometime.
 
I'm going to Abuelita's house. Mari might slow me down but it's
better if she comes. Plus, she will be lonely without me in the
house. She said to Mamí, wherever Araceli goes, I'm going too.
¡Me voy también!
 
I'm pretty sure I know how to get to Abuelita's house. I go
down the block, then up Hansberry on the other sidewalk.
When I turn the corner, I'll see her apartment. It's the one with
the bush. It'll be good that Mari's with me. Abuelita will be so
surprised. She'll stoop down and scrunch her eyes at us. Like
she wants to make sure it's us. Then she'll squash us into her
body. Her body that's like no one else's. Lumpy-feeling and
crinkly-looking. Smelling like Fruity Pebbles gone wrong
somehow. Ay, mi vida, she'll say to me. Mi amor, she'll say to
Mari.
 
Mamí wants me to give the roller skates back. But there's no
way. I won't do it. I won't give them back to Kimberly. They're
mine now.
 
I've never seen Mamí this mad. Usually it's Papí. But today he's
a bee we can't swat away. 
 
El cómico, Mamí said, all show. Papí went outside. Right under
my drawing of Kimberly with her swirly curls and her triangle
dress, Papí drew a picture of Mamí on the sidewalk. Big. He
laughed himself silly when he drew her square face, her nose
and her mouth close together. "¡Mira! ¡Mira! ¡Tu Mamá!"
 
Tonight, Mari and me, we'll be on our way. 
 
I tried to leave earlier. Right after Mari and me were drawing
on the sidewalk. is when Mamí saw the skates. Her face all dark
clouds, she pointed to my skate sticking out from under my
skirt, ¿qué's esto?  Mi patín, I said real quiet, as I tried to tuck
my foot back in. ¿Tu patín? Sparks crackled in her voice. I knew
it was going to be bad then, even before I told her that
Kimberly gave them to me.. ¡Y su puta madre! Mamí spit. Her
face all thunder and lightning she told me to take my culo right
over there and leave the skates on their porch. Without--Mamí
shook her finger so that it made me cross-eyed--putting one
dedo inside that house.
 
I packed my bag right away. When Mari saw me packing, she
started to cry. Hard. She's littler than me. What can you do? But
what happened is she let Mamí and Papí know. So when we got
downstairs we found that the door had been locked. I couldn't
reach the highest lock. Even when I jumped. Papí 
laughed and laughed.
 
So I stood and stood and stood there. I would have kept
standing there except that Mari had to pee so bad. It was an
emergency. I had to pee, too.
Upstairs, Papí told us that we'd better go and do what Mamí
wants or we're in big trouble. Big.   
 
Mamí doesn't understand. These skates are mine now. Why
should I give them back to Kimberly? Why does she say I can't I
keep anything from esa gente, those people?


Kimberly showed me how to adjust them. There's a screw-
thing so you can change the size for your shoe. I'll even share
them with Mari. First I have to learn to roller-skate.


Mamí should know this is a goodbye present. Who ever heard 
of giving a goodbye present back? Kimberly's my best friend
and she's leaving.  She's going to Chicago. These were her
favorite. Her favorite! 


I don't have much time. Papí said we all needed to calm down
but he was looking at me. Then he said he knew I would do the
right thing.
 
Well, the right thing is to keep the skates. Before I go to
Abuelita's, I'm going to Kimberly's house. But not to give the
skates back. Maybe Kimberly'll teach me how to skate and, you
know what, I'll give her something of mine. My best doll, Lolita.
That's what I'll do. She gave me something of hers to remember
her so I'll give her something from me.
 
What will second grade be like without Kimberly? 
 
Mamí is always mad at someone. She doesn't get mad like Papí.
She gets quiet. If she gets mad at him on a Monday or Tuesday
she won't talk to him the rest of the week. If she gets mad at
him on a Saturday then she's back talking to him by Monday,
maybe. And when Mamí is mad at Papí, she's mad at everyone.
 
Mari gets really upset when Mamí's this way. She tries to hide
she's crying but I know. Any time that Mari has her head down
with her braids hanging like sticks by her eyes, she's crying or
she was crying. It makes me mad. Why should Mari have to cry
so much?
 
Mamí pushes her aside when Mari tries to get close. I take Mari
to my special place then. It's under the bed. I have a nightlight
that's pretty. It makes an orange glow under the mattress. I
keep candy there and the ring Abuelita gave me that sparkles
into my hand. It always cheers Mari up.


We haven't seen Abuelita in a long time. That's why I'm not
so sure how to get to her house now. Mamí got mad at her, too.
This time it was because Abuelita wasn't giving back the
Tupperware she'd borrowed. Mamí says she asked for it three
times. Tres veces. Three is el máximo for Mamí. She says that
Abuelita wants to keep it. She says Abuelita doesn't want to
spend her own money to buy her own things. Papí says
Abuelita doesn't have any money. 
 
Papí says Abuelita forgets a lot of things. Maybe we could just 
give her the Tupperware and get another. But Mamí says that
we already spent the money on one, why should we give it
away?
 
With Kimberly it's not about Tupperware. Mamí sizzles when
she says, esa mujer, and she seems to be talking about
Kimberly's mom. Papí doesn't say anything. He just walks
away. I know he thinks Kimberly's mom is nice. When he
smiles at her, it's like he's really looking at her. He doesn't do
this with me or Mari or Mamí.
 
No matter what, when Mom stops staring and Dad stops
laughing and Mari stops crying, I'll run away. First, I'm going to
go to Kimberly's house. Kimberly's house with her nice soft
mama who never pushes anyone away. Kimberly with her
Bambi eyes and her bucky beaver teeth. Kimberly who gives
me hugs and her roller skates. Kimberly, my best friend, who's
about to be rained off the sidewalk, all the colors and lines of
her gone.
 
But my Mamí stays watching, her belt in the air. Mari's still
crying tears that fall in tiny drops, one by one. My Papí laughs,
as if the joke's on me.  Hee hee hee.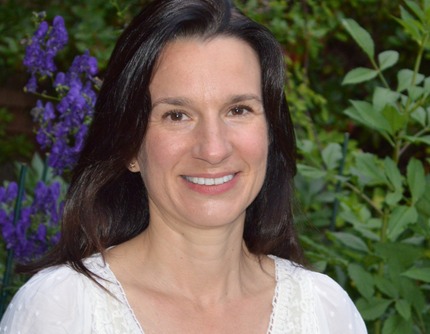 BIO
Adriana Lecuona is honored to contribute to The Acentos Review. An emerging writer, Ms. Lecuona's work has recently appeared in S/tick, John King's The Drunken Odyssey podcast and The Pennsylvania Gazette. She received her MFA in Film & Media Arts from Temple University and her BA from the University of Pennsylvania. Ms. Lecuona lives with her husband and son in Wallingford, Pennsylvania, where she is currently working on a memoir about her experience with Hodgkins Lymphoma and its aftermath.