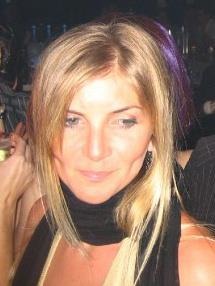 BIO
Nicole Hospital-Medina earned her MFA at the University of Miami where she now instructs writing; she also instructs writing at Barry University.  Her poems can be read in the anthology, Women Write Resistance: Poets Resist Gender Violence, as well as in CURA: A Journal of Art and Action, The Miami Herald, Linden Lane Magazine, Paper Nautilus, Blunderbuss Magazine and more.  Nicole, Floridian, surfer, sailor, teacher and environmentalist, ventures to write.  She is a poet-activist.
productiveprofessor.wordpress.com
entity of identity
I.
Tiny me:
I want to be ____________.
a) a pirate
b) a ballerina
c) an explorer
d) an artist
II.
Big me:
I am ____________.
a) a pirate:
I've smashed many beer bottles.  I've caused wars between men.  I've spent the majority of my
life at sea.  I'm the Captain's daughter.  I perform nearly as well as men.  Dwayne Peters from
the Dwayne Peter's Gunfight fell in love with me.  He wore stripes and boots.  He showed me
his jaundiced penis in the girl's bathroom.  I buy bags of apples to avoid scurvy.  I tended bar at
Barracuda's Bar & Grill.  Poured pitchers for the shrimpers (more wench-like).  My dog is the
parrot on my shoulder that makes men jealous.  I caused a rumble between a surfer and a
merchant marine.  I was raped ten feet from the sea's edge.  My father hates my I heart pirates t-
shirt.  I know not to trust anyone.  I loved Bret but didn't let him near to my mouth until he
started cleaning fish on Key Biscayne.  His real name: Bone-fish.  I know how to sail.
b) a ballerina
I danced on toe shoes until my big toe nail fell off.  The pink satin torture chambers still clank in
my bedroom.  I own too much peach and rose.  I mastered a variety of eating disorders and
learned to love the softer things in life.  To hate the softer things on my body.  I have Maria
Tallchief's autograph framed in silver.  My name is on the same playbill as Fernando Bujones.  I
know the secret of two sports bras, the secret of blush on your clavicles to look skinnier.  I like
all things arched or Victorian.  My best friend once called me the little ballerina with ADD.  I
once watched an entire performance of the Nutcracker without my glasses.  I know how to lose
five pounds in a week and keep it off.  Christmas is my favorite holiday, but I don't eat nuts.  It's
better if your sweats pants are falling off and your hip bones keep them hooked on.  If you're
sick of chugging water.  Vomit.
c) an explorer
I stood on a main sail's boom at a very young age, pasted by the wind into its white.  Memorized the
spoil islands of Coconut Grove, which ones have too many syringes and glass.  I know where
to gather sea horses.  I know the east coast of Florida too well; I'm sick of it, where to park for
free without getting towed, how to hide your key and surf.  In Spain, we took shots with young
beach bums that showed us entry ways into the caves of Almuñecar (the smell of cold water).  In
mountains, I disrobed and cried with Cherokee stories (my tears, too young to be taken
seriously).  I know where the Virgin Mary appears in America, her rose scent, my mother's
 indulgence.  In Costa Rica, I ate mushroom powder frozen in chocolate ice cubes and drifted
down Playa Guillones on a surfboard, irrationally, but precisely sobbing and then laughing at the
 white wash.  In Miami, I can find you drugs and tostones.  In New York City, a place to stay.  In
Iowa City, a place to go green.  In Jax Beach, a place to die.  In Hopetown, a place to heal.  In
Chicago, a place to feast safely.  In my house, I grow the paradise of many places. 
d) an artist
I am an outcast, also the daughter of exiles.  I've slept with too many painters that don't read my
work.  I've constructed a matte turquoise hand that carries a glossy peach starfish. I take too long
to do anything.  In art class, I was separated from the normal students so I could finish my
pieces.  All my lovers sob in my arms, their tears seep out of tattoos and then soggy my skin.  I
inevitably hate them.  I've been screwed and blessed by my self.  I obsess only over irrelevant
things (and color).  Edie Sedgwick is an idol—if you feel lost, die, or find a man to distract you;
also, ignore your talent.  Creative writing doesn't mean anything.  I inevitably hate it.  Seek
 without finding acceptance.  Alter your mind.  Think of numbers as people, not people as
numbers.  I write like an addict.  I perpetually write zero.  I lock myself in mental hazards of
creation (chains clanking).