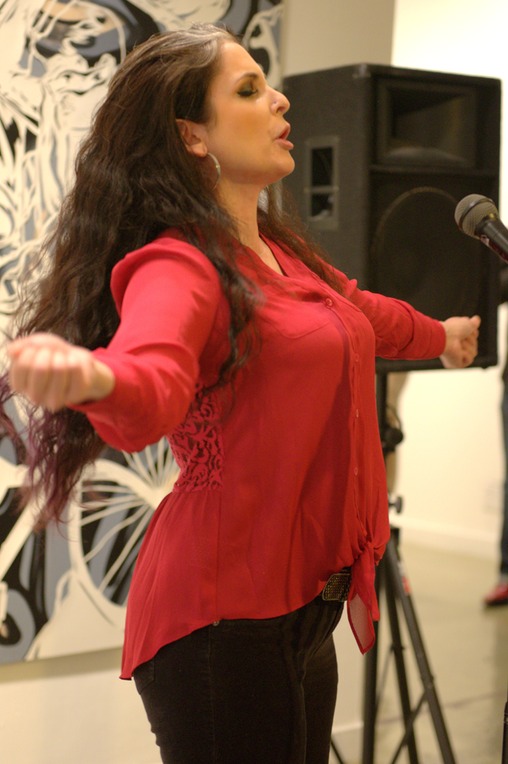 Red Light
ONE.
Most people didn't speak about why they liked
what I did to them
 they just paid me
he talked, I listened
BIO
Christina Perez is a writer, performer, and educator based in northern California. As a spoken word artist, Christina Perez has performed her writing at shows all over the country and throughout California, most recently featuring for the Lunada Literary Lounge at Galeria de la Raza, and was one of the headliners for the Latino Poetry and Spoken Word Festival ¿Dónde Está Mi Gente? in San Francisco. She is an organizer and a host of several literary events, and teaches workshops for at risk youth in Mendocino County, sponsored in part by The Youth Project and the Mendocino Coast Writers Conference.  She is a Poetry Out Loud Teacher for Santa Rosa, Elsie Allen, and Rancho Cotati High Schools in Sonoma County, CA. Christina Perez is the Director and host of SLAMAZON, a monthly open mic and poetry slam for female identifying competitors and can be reached at bluecaladonia@gmail.com
to the story that stained my head
as I tied him to the bed post
wrapped his silk tie around testicles, tight
together, we shared some nightmare 
sprinkled with burnt childhood
 he told me he was just 11
on the ranch
in the barn his aunt gave him a lesson
she had that bull tied, trapped
shoved a pitchfork into his balls just, to hear it bellow
she needed to hurt something, big, male and strong
SO DID I
he's grown now, needs to be tortured in order to ejaculate
we both know in this moment
 love is the discipline of a strong woman
 TWO.
We work the red light district
The devil and HEAVEN know our names
 our prostitute bodies defiled desecrated land
so who gives a SHIT if we charge anybody we want, to plow it
 they talk about their families, their wives
show us their pictures
A man… is as faithful as his options
 it's just a straightforward transaction, money for sex
 it's not really like cheating they tell us
thinking too hard might ruin their pleasure
I don't care, just give me my money
THREE. 
I turned on the red light
for those other women
their men so fat, I could barely find their dicks
 a man with muscular sclerosis who had to pay for his enjoyment
cause he couldn't get his own
a paraplegic man in a wheelchair
 who wanted to be dressed as a woman
have his make-up done
 have his lower body abused
cause just maybe     this time      he might feel something
FOUR.
 I lied, told myself it was the money that turned me out
 really it's the you
are nothing, worth nothing,
fit for nothing but ripping n running
 a husk of a body
 caging a barely anchored soul
cause it hurts too much to be totally here
without the help of a mind altering
Thank You GOD substance that turned
 me out
FIVE.  
I always had my trick radar tuned trigger fine
 when it went off, I never got too greedy
 knew the hard way what a bad call could cost me
didn't go that night
didn't end up like home girl
shoved under the mattress
at The Luxor Hotel in Las Vegas
housekeeping found her 3 days later
 the man that murdered her
 said she begged for her life
called for her Mommie
SIX. 
Nobody but the guy at the morgue and me,
wonder what the hell happened
to that perfect little baby born 16 years earlier
Ahhh, who cares about a murdered prostitute, anyway
if she hadn't been doing it, she wouldn't  have been killed… right?
Rains of judgment
can drown the victim right OUTTA anybody
NO umbrella in sight
she, with her final exhale
Hoping
In-that-last-small-secret-child-place-left
for rescue
La Llorona
They call me La llorona
shrieking     for my murdered children
crying           after my lost bigamist husband
if I can't find them, I come for YOU at bed time
every Mexican child knows:
I pull them by the hair, (drag) them (to) the river
what happens there, stays there, ese
Taz!
 I am no ordinary, shambling monster
no-roll-over-drop-a-dime-whisper-in-the-ear
red-hot-tamale-breath-whistling-against-the-curtains-kinda-girl
Chale, I merengue through (the arms) of guardian angels
Like revenge   I.   don't.  lose.
 Tears have rusted down my cast iron face
everything anemic now
my blood long ago soaked the RIVER
my own cousin. 
It's mouth
so choked up with matacitas
 it took a gamble
bet everything to jump free of it's banks
 pawn shop hocked the water spirit which regularly
 saved my drowning bebitos BEHIND my back
Pues, I got nojada angry, threw down a coraje
these hands that changed diapers
change the weather, slapping ships
whipping oceans till they cry mercy
I'm All Chingona, roaring through ridges of trees
 their groaning, heavy roots holding
with all crossed-finger-twigged-strength
that night.  to the dirt.
feeling it spin away, turning into muddy water
Nobody saw it happen, the mighty oak
he just slipped sideways, ese
 branches backlit with white owls
his majestic trunk hit the rail car
containing a simple Mal Hombre cheat of  a Husband
You.  See train wrecked bodies everywhere
You.  Hear ambulance sirens singing
on their way to take him to safety
You.  See the female EMT
asking "how many fingers do you see, Senor"?
Gods only witness, that lonely fallen tree
Saw.  Mermaid sirens thrashing dirty water
La Sirena encantada-singing a man to his death
cut the wedding ring from his finger
when they were not looking
cause I'm the jealous kind
 he told me he was not married
The apocalypse Goddess
 I have landed on his chest
"Senor,  how many fingers"? 
 his relieved face filled with love
 saying take me, hold me, I'm so cold,
I lean in…
suck his last breath