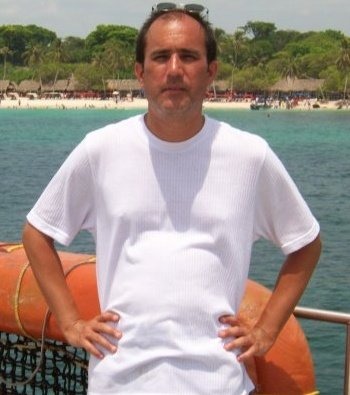 Bio
Michael Berton is a native of El Paso, TX and its 60 mile radius. He has published in a variety of magazines, journals and reviews such as The Cracked Mirror, Otoliths, Indefinite Space, And/Or, Pacific Review, Sin Fronteras Journal, Yellow Medicine Review, Fireweed, REM Magazine, and Hinchas de Poesía. He is the author of a collection of poems, Man! You Script The Mic. (New Mitote Press).
He lives in Portland, OR and can be reached at tzintzuntzan000@gmail.com. 
Standing Tall In One Hundred Degree Heat
Francisco the yardman
for my grandfather
waddles along Cliff street
checking front yards
for obnoxious weed growth
and tall grass violations.
Earthworn tools
in burnished hands
homeboy viejo
high noon shadow
hunched gentlemanly
as blades separate and snip.
A servant to the toil
the sun's wrath chisled
facial sketches
a mask of landscapes
sweating with pride
hydrating the skin
the soul smiles
the body straightens.