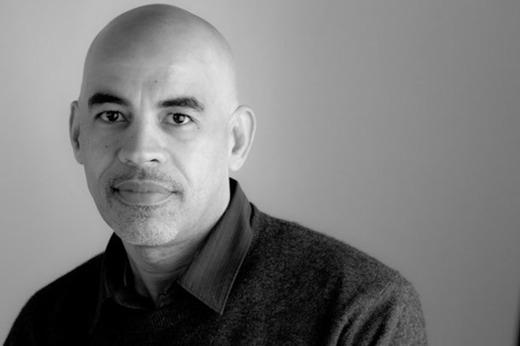 BIO
Willie Perdomo is the author of The Essential Hits of Shorty Bon Bon (Penguin Poets, 2014), Smoking Lovely (Rattapallax, 2003), winner of the PEN Beyond Margins Award, and Where a Nickel Costs a Dime (W.W. Norton, 1996), a finalist for the Poetry Society of America's Norma Farber First Book Award.  His work has appeared in The New York Times Magazine, BOMB, Mandorla, and African Voices. He is a Pushcart Prize nominee, a former recipient of the Woolrich Fellowship in Creative Writing at Columbia University, and a two-time New York Foundation for the Arts Poetry Fellow. He is founder/publisher of Cypher Books, a VONA/Voices faculty member, and is currently an Instructor in English at Phillips Exeter Academy.
Photo credit:  Rachel Eliza Griffiths
EXCERPT FROM The Essential Hits of Shorty Bon Bon
              Used with the permission of the author
Side A (3:2)

You switch to a velvet booth, a short-circuited
Tombstone solo wears a cosmopolitan smirk — 

Who is that copping please talking about
They haven't played that tune in a while?

Today is heavy-footed, branch-dumb, old
Standards grill the last call & outside

The skylines, the skylines are consumed by
One. Two. One-two-three — 

Time to dig historic in that section of the circle
Where high call answers question with song.

Yes, Poet, I heard you.

And then what happened to Shorty Bon Bon?
      He gave his last breath to Viejo San Juan.
Is it true what they say about Shorty Bon Bon?
     No bird sells his wings, no sonero his son.
O, read me those poems about Shorty Bon Bon!
     He buried his drum in La Plaza Colón.
O, tell me what happened to Shorty Bon Bon!
     He lost his junjún in Viejo San Juan.

You lived on dreams & pauses for a whole take.
Whenever prayer shocked your fate lines, Buddha

Sang for pennies & his song blubbered the heavens, 
The heavens went quiet with his laugh.  The rocks

In your path were unemployed & there was enough
Space for a second life—sounds like just as it is— 

Only way out was to be about something.

You—fly-guy with the hard hands, blade-swimmer,
Don't know if you heard but this horse is ready.
Gather your clouds & pearls, eagle-colt, glass slipper, 
Bitch mink, evil-faced guitar wail, O bongo, O
Agogo, kundalini & caduceus—clack-clack, oye
Como va, check my bon bon something nasty.

It is true—since birth your ears have been close
To the curb—for every initiation, a costly exit.

Recall the way bodies rocked, heads nodded, 
Summers were fertile for fib stacked upon fib.

A platoon of funerals & shipwrecks marched
To pure end, wreaking spleen-to-spine havoc.

Still, you scraped dead skin off your fingertips—   
All those hot beats & not one to go home with.

Youtar on the fence & mesmerized sin, sneak
Attack & crossfire——O, no, Voice, you dead flower
—before you go, grab my cowbell, my clave can
 Divide by three & conquer-by-twilight—O clave,
Go, combust bleachers, warrior-call—thug-trychel,
Hang from my neck & party all night long.