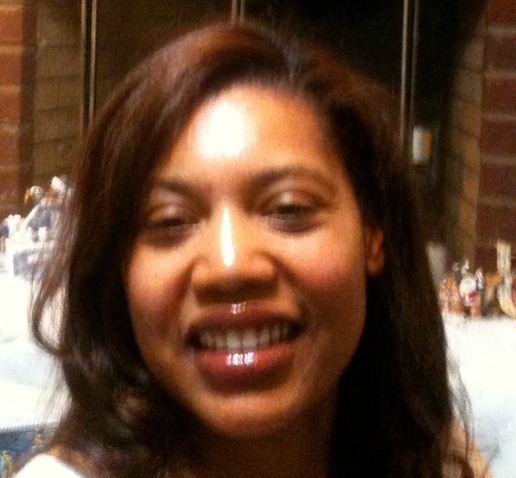 BIO
Rochelle Spencer is co-editor of All About Skin: Short Fiction by Women Writers of Color (University of Wisconsin Press, 2014) and her work appears in several publications including Mosaic Literary Magazine, Callaloo, The African American Review, Publishers Weekly, Poets and Writers, The Rumpus, and Crab Creek Review, which nominated her nonfiction for an Editor's Choice Award and a Pushcart Prize.   Rochelle is a former Board Member of the Hurston-Wright Foundation, a founding member of the Harlem Works Collective, and a member of the Wintergreen Writers Collective and the National Book Critics Circle. Rochelle is currently co-authoring a nonfiction book about the members of the Dark Room Collective.
Helena María Viramontes on the Intimacy of Writing
            At dinner at the Bread Loaf Writers' Conference in Vermont, Helena María Viramontes listens much more than she speaks. When young writers cluster around her table, she bends her small frame towards them, and you can tell from her intensity that she's someone who cares what others have to say. Over soups and salads and endless casseroles, Viramontes asks a cadre of emerging writers the questions, should their careers ever blossom, that writers often get asked—who they are reading, what they think good writing should achieve—but there is genuine interest in Viramontes' tone, and it delights these newbies that a writer as respected as Viramontes takes their ideas so seriously. 
            Viramontes is the author of several works of fiction--The Moths and Other Stories (1985), Paris Rats in E.L.A. (1993), and Under the Feet of Jesus (1995)--and is the co-editor of two anthologies, Chicana Creativity and Criticism: Charting New Frontiers in American Literature (Arte Publico Press, 1988) and Chicana (W)rites: On Word and Film (Third World Press, 1995)  with Chicano/a studies scholar María Herrera-Sobek. Viramontes has also written the forward for a new anthology of women's writing, All about Skin: Fiction by Women of Color (University of Wisconsin Press, 2014), and in 2013, Womens Studies Professor Gabriella Gutiérrez y Muhs published Rebozos de Palabras: An Helena Maria Viramontes Critical Reader (University of Arizona Press), the first full-length book of essays about Viramontes' fiction, and a study novelist Daniel Olivias says "offers a much-needed guide to the work of one of our most significant contemporary writers."
            In a recent conversation, Viramontes discussed being both the subject of new scholarly attention and its progenitor; the terror and excitement of writing her new novel; and why she absolutely refuses to read literature in airports.
Acentos: You've written a beautiful foreword for All About Skin, and you've also co-edited two anthologies,  Chicana Creativity Chicana (W)rites on Word and Film (1995) and Chicano Creativity and Criticism (1998). Why do you feel that anthologies like these are important?
Viramontes: My anthologies are very different. María is a very respected literary scholar but one of the things that she and I noticed was that the scholars who were writing about our work weren't in conversation or in dialogue with each other. Last year, John Jay School of Law had a major international conference on Latino literature [Haciendo Caminos: Mapping the Furtures of the U. S. Latina/o Literatures].
            It was very exciting but when I went through all these different panels, I thought: "where are the writers?" So I organized a panel on Latino literature—with Angie Cruz, Ernesto Quiñonez, Manuel Muñoz, Alex Espinoza, and H.G. Carrillo—because it was so important for me to get the writers there. If we're going to organize a conference, we have to have the scholars in conversation with the writers.
            Chicano Creativity—if you see it, you see it had literary essays but it also had various other kinds of work; it was multi-disciplinary in its presentation. With Chicano (W)rites on World & Film—we brought in poets, fiction writers, and also, literary critics. I felt it was so essential and important that we all have these conversations and debates. And that's why I'm very proud of these anthologies. We did do something different. And it was hard, getting all the stuff together. Chicano Writes—it took about 10 years to get published...When you edit an anthology, you have a certain idea in mind. But not only do you have a certain idea, you're also putting together something that isn't out there. And I have done that in the sense of having all this multi-disciplinary art in Chicano (W)rites and Chicano Creativity.
Acentos: What are you working on right now? 
Viramontes: I'm working on the The Cemetery Boys—which offers a nostalgic view of 1950s/1960s. I'm looking at older brothers and sisters growing up in East Los Angeles. I started it in 2008-2009, and in the process of doing it, I was going back in time...I've been grappling with this novel. I know some of the characters now. But I've never had the opportunity to sit, work. So, I've taken a year off, until July 2015.  I won't be teaching at Cornell. I will just be working on my novel.
Acentos: What has the process of writing this novel been like? 
Viramontes:  I began looking at my brothers', my mother's, experience--looking at my own personal record of my family. On my mother's side, my oldest aunt was born in 1904 in Los Angeles—which means my grandparents were in Los Angeles in the  Turn of Century. My Faulkner country is East Lost Angeles, my family being in east Los Angeles from the turn of century...So I'm having to deal with turn of century, the 1940s—and post war II. My two uncles were in World War II,  and my favorite uncle who passed away had been in Okinawa and came back really fucked up and became an alcoholic. My son is named after him...So I have all of this subject matter. And I've started reading and reading all of this history.
Acentos: Why take off the year?
Viramontes: When the load of teaching becomes too much, you push aside your work. By that time, it takes a few weeks to get into the novel again, until you can't do it any more. That's what has been happening to me right now. Dogs took close to 17 years. I can't afford that sort of time right now. I don't know what I have but I have to find out this year. If I don't sit and do this, I'm going to go nuts. We [Viramontes' husband is Cornell biochemist Eloy Rodriguez] looked at finances, but we're going to tighten out belt. But I think we can do it.
Acentos: This novel seems different from others you've written.
Viramontes: Here, there are no personal experiences. I'm really making stuff up, which makes me feel in many ways inauthentic as a writer. There are some writers who just have this incredible engagement with their imaginations...and I just have to feel.  I always go back to my experiences. I'm very much excited about this project but again very terrified by it. It's not a process that I'm used to. I don't make shit up. I have to see it, feel it, smell it—create this world. It's a challenge. Plus, I'm dealing with male characters. I'm not a man. How do they talk?
Acentos:  Speaking of male characters, in the article, "The transnational feminist literature of Helena Maria Viramontes" feminist scholar Christina Marie Buckles argues that your male characters have evolved, from "negative, violent characters, or completely absent" to kinder, gentler figures. Do you feel that your male characters have indeed evolved, and if so, do you feel that this change reflects any changing ideas you may have about feminism?
Viramontes: I do feel that way. I was very tempered when I wrote The Moths. I was very angry at the patriarchy, the structure of the patriarchy in the dominant culture and in Mexican culture and with the Catholic church. I had to process. I really had to process. I was not aware that I was so angry, that there was this tempered rage. If I'm going to be a better writer, I have to evolve and complicate characters and not have this rage, and so I did write "The Jumping Bean"--a very transitional story for me as a writer because I had to make peace with my father. I was not romanticizing his world but acknowledging the inhumanities--of racism, of him being a Spanish speaker--that he had suffered in the larger world. Even though he was born in this country, he was still treated as an undocumented laborer. That transitional story really helped me become more loving and generous. In1 Dogs, the character of Ben, I was able to deeply go into this complicated and in many ways mentally ill man...
            For me, writing empathetically about male characters isn't a matter of feminism or a feminist world view being diminished—it's almost being enhanced. I guess, to quote Toni Morrison, "Slavery wasn't just about slaves. It was about slave owners. Because the slave owners had to be inhumane to treat the slaves. They were diminished." Everyone was fucked with this system.
Acentos:  In the foreword to All About Skin, you write that "[e]mpathy is the glue that makes the words of a writer stick to the reader, and in this era of globalization, understanding and feeling the life of another through narratives is a nonviolent act of sheer humane importance." Can you say more about this quote?
Viramontes:  That's the power of the literature, the power of the intimacy of the reader in getting into the writers' mind. You have to have empathy in order to develop a storyline, where you might not recognize yourself, but you certainly understand the emotions. And then you become empathetic.
That's why I can't read in airports.  It's a great pleasure to be in the company of those words and to always have the time to gasp after an emotion has triggered you and figure out how and why you're feeling it. We all have it as a readers, but it's only the writer who will pick up a pencil or a laptop and start asking "why am I feeling this?" That's the only difference—we're prepared to grapple with the emotions, the inquiries, and we're motivated enough, compelled enough, awe-stricken enough or just stubborn to want to find out about it. We painfully, painfully want to sit with ourselves and understand our inadequacies as human beings and understand our limitations with language--and you still sit down to write, to grapple.
Acentos: Daniel Olivias is republishing his La Bloga interview with you in a collection of essays, and Gabriella Gutiérrez y Muhs has recently published Rebozos de Palabras, a full-length book of essays about your work.  Gutiérrez y Muhs tells Olivas that  "One of the aspects of Helena María's writing that makes it unique is that she selects stories that others have overlooked." Do you think this is why your literature continues to endure?
Viramontes:  I met Gabriella as a graduate student at Stanford. She is a really dynamic individual. If you were to meet her, she's like a life-force, like Sandra Cisneros...Full of love and excitement and generosity and wants to cook your next meal. Gabriella is like that. Gets very involved in her students, believes in social justice, and also believes in literature. She's got her sights on all these different, diverse sites of people--academics, feminists, friends, and writers (because she's also a poet). She's also been somebody who really loves my work.
            There were always these people who were doing work on my work, but it was never consolidated. It was quite a few years in the process, and she just kept at it. And she asked people to write, but she also collected from people, from very young scholars to very established scholars. This is part of who she is. And this is the way she did it. You have the young scholars side by side with the older scholars, and it's a collaborative read, from people in their different durations of their careers, writing about my work.
Acentos: In an interview with literary scholar Carmen Flys-Junquera,  you claim that  "There is no better revenge than a good sentence... Language is incredibly powerful if you know how to use it, if you know how to stretch it, if you know how to tell a story by it, if you know how to make it transform. It is a remarkable tool for social change." Do you still believe that literature can be a tool for social change?
Viramontes:  Yes, I do. But I'm not naïve. I'm older, and I understand what you mean by transformation and social change.
            Several years ago, I was honored by the Latino Legislation for a Merit Award in literature.  We spent the whole day today going through the chambers, talking to different people, and it was exciting to see these old black and Latino and mujer activists, and it was exciting to see them, learning policy, learning law.  And I thought, "This is exciting. This is the future." But then I got really sad. And I thought "I just write."
            But one of the activists said to me, "I really admire you for what you do, for communities of people," and I responded that I thought I should be doing more." But he said, "no, no. you would be surprised by how your work affects a lot of us. There would be not one person here whom you've met who has not read Under the Feet of Jesus."
            I'm an old-time activist—I was teaching in correctional facilities, always doing something community-related. I was there physically. In the writing, I don't know how it transforms. I always think I'm not doing enough, even though I'm writing. But I have to remind myself how many people do feel changed by the reading of my work and the excitement of my work. And maybe they think differently about ecology politics.  I know, for example, when one reads Grapes of Wrath, there is the indictment from Steinbeck and you can feel the rage. And that novel will forever change the way we look at the world. You see it in Upton Sinclair in The Jungle and the way he wrote about the meat industry.
             Jesus hasn't changed any laws, but it has called more attention to the invisible community of the farmworker, to their importance to American enterprise, and to the pesticides--a real health issue.  In that way, I think it has changed the world from other readers' points of view, and I do get a constant flow of students writing to me about how the book has affected them.
            I think literature will continue to do what  I think is social transformation by informing a world view, by making visible the invisible. I don't think you could do it any other way--because a book can travel all over the world, and that's important. That's good. So, yes, I still feel very deeply that language can transform. Language has the capacity to reshape itself into a new thought, a new hope. And you can only have that new hope if there is a reader, if you have a reader who then absorbs that and thinks about it. And if the reader thinks about the sentence you've just written, it's such an incredible thing.
             In the foreword All About Skin, I think about the reader and writer being so intimate: "Two strangers—only in reading and writing can two people be so intimate." In that way, great literature will continue to transform.